Meet the Board
 Office Bearers of AAVIO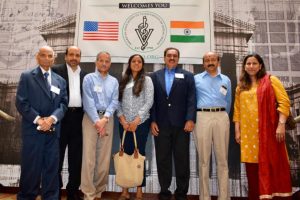 • Dr. Ravi Murarka – President (2nd one form left)
• Dr. C. R. Bhatia – Vice President (3rd one from right)
• Dr. Shailesh Patel – General Secretary (2nd one from right)
• Dr. Raj Khare – Senior Adviser (1st one from left)
• Dr. Narendra Khianey – (3rd one form left)
• Dr. Jyothi Surendran Treasurer (middle one)
• Dr. Sudha Komma (not in photo)
• Dr. Balasunder Dodda (not in photo)
• Dr. Mohan Ramanathan (not in photo)
AAVIO ECFVG Guidance and Facilitators:
• Dr. Purushottam Narute (BCSE)
• Dr. Vishal Yadav (BCSE)
• Dr. Nagaleelavathi Sompurapapareddy (NAVLE)
• Dr. Mithila Rao (CPE)
Biological Sciences and Research Stream Coordinator:
• Dr. Chirayu Goswami
AAVIO Veterinary Student Representatives:
• Juskaran Singh: 4th year student
• Monisha Murarka: 2nd year student
About Dr. Ravi Murarka: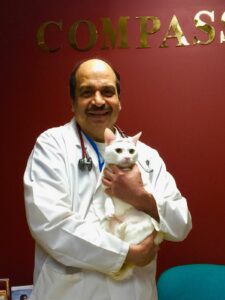 Dr. Ravi has been a leader in the veterinary filed for over 30 years. He served as a medical director of the PSPCA for almost 20 years. He is the past chairman of the Animal Welfare Committee for the Pennsylvania Veterinary Medical Association, the founder and past president of the Delaware Valley Academy of Veterinary Medicine and board of director of Bharatiya Hindu and Jain temple. Previously, he served as the president of the then AAVIO namely American Indian Veterinary Association, and has testified in various courts in Pennsylvania as an expert witness in animal cruelty cases.
He has a chapter in the best selling book "Saving Gracie", by New York Times best selling author Carol Bradley, and has been featured in a number of local and national television and radio shows on NPR, Animal Planet, and National Geographic. Along with running his veterinary practice, the Compassion Veterinary Clinic in Blue Bell, Pennsylvania, he has served as the consulting veterinarian of the Morris Animal Refuge since July of 2015. Morris Animal Refuge conferred The Grace Labouchere Award to Dr. Ravi Murarka in 2016 for his outstanding veterinary services. He has also trained countless veterinarians from all over the world to improve their surgical skills and further assist them to obtain their veterinary license. Many universities in North America have sent their students to Dr. Murarka for evaluation of surgical rotation.
Practice Owner:  Compassion Veterinary Clinic, 1030 Dekalb Pike, Blue Bell, PA 19422, Phone: (610) 277-3672, http://www.compassionvetclinic.com/
About Dr. Narendra Khianey:


Dr. Narendra Khianey has strong passion and appreciation for animals, combined with a love for science and problem solving, shaped his childhood dream of becoming a veterinarian. Very early in life, he secured his dream job of volunteering at animal hospitals and animal shelters cleaning kennels and walking dogs. Through this experience, he was transformed by the profound human-animal bond, the magical connection of meaning and joy that we share with our pets. Witnessing the important role medical care, disease prevention, and pain relief have in the lives of people and their beloved pets resolved him to continue the pursuits of veterinary medicine.
Dr. Khianey volunteered all his life till he graduated from veterinary school. After graduating from veterinary college, he immigrated to the United States in 1976 and settled in Maryland with his brothers, sister, and parents. He has been the proud owner of Prince George's Animal Hospital since 1984. He enjoys the challenges and rewards of general practice, from puppy and kitten exams to end of life care, as well as preventative, surgical, and medical care in between. In his free time, he loves spending time with his daughter and son in law and playing with his grandson. He is very proud of his son who is working his way to graduate in veterinary medicine at the Ohio State University with honors and a scholarship. He is the only veterinary student to take business as a minor and be rewarded with a scholarship for the program. Dr. Khianey is waiting eagerly for him to join his team.
Practice Owner:  Prince George's Animal Hospital, 7440 Annapolis Road, Hyattsville, MD 20784, Phone: (301) 577-9400, www.pganimalhospital.com        
About Dr. Mohan Ramanathan: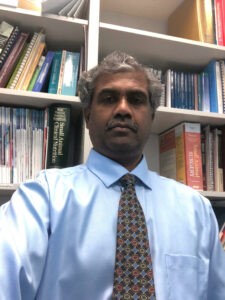 Dr. Mohan Ramanathan is a native of Southern India. He graduated from Madras Veterinary College, Madras India in 1989. He obtained his M.S from University of Nebraska-Lincoln in 1992.  After working in biopharmaceuticals developing biologicals for a few years, he completed rotating Internship in Medicine and Surgery from Tuskegee University College of Veterinary Medicine, Allied health and
Nursing in 2000.  Immediately after completion he continued on to work as an attending clinician and faculty at the TU teaching hospital.  He taught Internal Medicine, Preventative medicine/ Ambulatory care and elective Emergency/Critical care Medicine and Dentistry to Junior and Senior DVM students and Interns.  He pursued additional training in Emergency and Critical care for 2 years in Louisville, KY before moving to Florida to work as an Emergency and Critical care Veterinarian at Palm Beach Veterinary Specialists for about 10 years. His years of training and experience give him the edge of offering excellence in pet care. Currently, he owns and operates the Woolbright Veterinary clinic, since July, 2014.  In his spare time, he enjoys playing basketball, listening to classical music, reading, traveling and spending time with his family and his pet Max.
About Dr. Jyothi Surendran:


Dr. Jyothi Surendran is a small animal veterinarian with special interests in clinical pathology , rehabilitation and alternative medicine. Striving to improve the life of animals with the highest quality care provides her immense job satisfaction. She completed her clinical year at Louisiana State University after graduating from vet school in Kerala, India. Clinical experience was obtained at the Willow brook Veterinary Hospital, St Louis, MO; King of Prussia Veterinary Hospital, PA; Blue Pearl Veterinary Specialists, Eden Prairie, MN; Exton Veterinary Clinic, Exton, PA and Compassion Veterinary Hospital, Blue Bell, PA. Experience at the Compassion Veterinary Hospital also helped improve her surgical skills. She has undergone courses in ultrasound from the Iowa state university which enhanced her diagnostic skills. Currently working at Keystone Animal Hospital in Oxford, Pennsylvania. She is a member of the AVMA and the Delaware Valley Academy of Veterinarians. In her free time, she enjoys pencil sketching, oil painting and spending time with family and her pet Leo, a Swissie. Phone: (610) 850-3060
About Dr. Sudha Komma: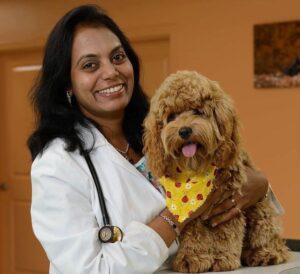 Dr. Sudha Komma received her veterinary degree from Tufts University. She earned a Masters in Public Health from Boston University and Masters of Veterinary Science in Microbiology from ANGRAU. Dr. Komma has practiced general veterinary medicine for about 15 years. High quality care and affordable veterinary medical and surgical services has always been her strong professional commitment.
Dr. Komma is a general practitioner with professional interests in preventive care, surgery, internal medicine, dermatology, dentistry and exotic medicine. She is also interested in holistic medicine, herbal medicine and acupuncture therapy. She has also developed a special interest in addressing the special needs of senior pets. Quality care and affordable veterinary services have always been Dr. Komma's strong professional commitments. She is extremely excited to lead the BVMC team in providing an exceptional service to the pets and people of Bedford and the surrounding towns.
In her free time, she enjoys playing chess, cooking, traveling, and spending time with her family and pets.  She has lived in NH for the past fifteen years. Dr. Komma and her husband Suren have two children Manu and Sai, and a Chihuahua named Coco.
About Dr. Balasunder Dodda: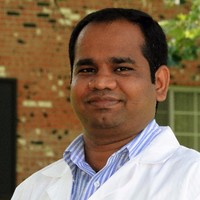 Dr. Balasunder Dodda graduated with a Ph. D (from Duquesne University, Pittsburgh) and masters in Pharmacology and earned DVM degree from ANGRAU, India. He has been extensively involved in preclinical and clinical research in academia and pharmaceutical industry. While doing so he has been volunteering in shelter medicine and private practices occasionally. In his previous job he is a contributor to a highly successful new immune modulating human cancer drug regulatory approvals for many solid tumors. He has been passionate about translating such recent advances in human medicine to our veterinary patients. His other passions are mastering internal medicine and soft tissue surgeries. He prefers to spend his leisure time outdoors while traveling, gardening, camping and fishing. He is currently working as associate veterinarian in Holidaypak Animal Hospital in Plum, Pennsylvania.
About Dr. Mithila Rao: AAVIO ECFVG Guidance and Facilitator
Dr. Mithila Rao did her bachelors from Bombay Veterinary College, India and masters in toxicology from Western College of Veterinary Medicine, Canada. She also holds a certification in Veterinary Acupuncture from Colorado state university. Currently she works as a Study Director/Site Veterinarian at a toxicology CRO in New Jersey. She is licensed in New Jersey and does relief work in veterinary medicine and acupuncture.
About Dr. Purushottam Narute: AAVIO ECFVG Guidance and Facilitator
Purushottam Narute received his degree in veterinary medicine from
Maharashtra Animal and Fishery Sciences University, India and his master's degree from Indian Veterinary Research Institute, India. He then moved to United States and earned his PhD degree from University of Pittsburgh, PA. He joined Banfield Pet Hospital in 2017. Dr. Narute has interests in soft tissue surgery, dermatology, dentistry and internal medicine, and he strongly believes in preventive pet health care. He lives with his family in Clarksburg, MD and enjoys traveling, reading, and spending time with his family and friends.
About Dr. Leela: AAVIO ECFVG Guidance and Facilitator
Dr. Nagaleelavathi Sompura Papareddy (Dr. Leela) graduated from Bangalore Veterinary College and completed Masters in Veterinary Public Health from Haryana Agriculture University. Before moving to United states she served the farming community as a large animal practitioner for 3 years in India. After moving to Michigan she started ECFVG certification and completed NAVLE in 2013 and joined small animal practice in Michigan. Currently working as a Small animal emergency veterinarian with special interest in exotic animal medicine and Surgery.
Associate Veterinarian: Wilson Veterinary Hospital, 12000 Durham St. Washington, MI 48095
About Dr Chirayu Goswami: Biological Sciences and Research Stream Coordinator
Dr Chirayu Goswami graduated from College of Veterinary and Animal Science, Rajasthan Agricultural University, Bikaner in 2006. After completing his Veterinary degree, he received a Masters degree in Bioinformatics from Indiana University. He has since worked as a Bioinformatics programmer at Indiana University for 6 years and currently works as a Senior Bioinformatician in Genomic Pathology department at Thomas Jefferson Hospital Philadelphia.
About Juskaran Singh :
Originally from NJ, Juskaran Singh is a current 4rd year student at Penn Vet. He graduated from Rutgers with BS in 2017. Interested in small animal surgery.
Completed her bachelors in biological sciences at Drexel University. She continued at Drexel and got her masters in lab animal sciences. She has been heavily involved in research, becoming the first co-author of a publication in the journal of veterinary behavior. Currently she is at University of Minnesota second year Veterinary program, working towards becoming a small animal veterinarian.